Half Day Tour to Tizit Village, Fisher's Community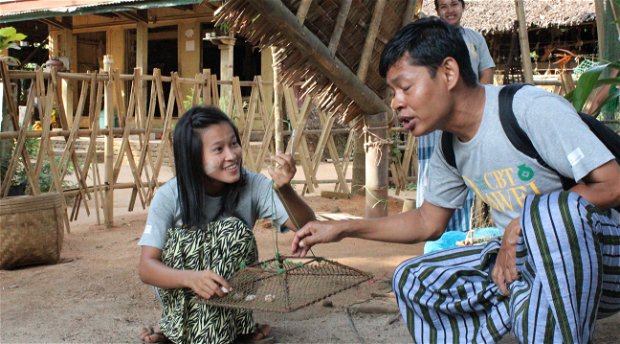 Tizit's half-day tour program offers you fascinating, fun insights into the lives of the fisher families who live along the stunning Dawei peninsular. The tour gives visitors a chance to deep dive into local fishing livelihoods, combined with a warm home welcome, hands-on fishing experience and delicious local food.
Remark: This tour is just an example and can be customized to your preferences.
Gallery
Itinerary
Half Day Tour to Tizit Fishers' Community
Duration – Around 4 1/2 Hour : 2:00 Pm - 6:30 Pm
Upon arrival, warmly welcomed by your local community tour guide, who is a member of Tizit's Community Based Tourism (CBT) club.  Your local guide will demonstrate how to use a fascinating variety of small fishing gear. Various nets, rods and traps are carefully selected by the fishers, based on tides, time of day and the types of fish which they hope to catch. During the Fishers' Gallery experience, enjoy a selection of tasty, traditional Dawei snacks, prepared by the Tizit CBT Cooking Group.
Next, to a typical Dawei Home. The homeowner will welcome you with Betel nut, which is a Daweian tradition, before introducing some interesting aspects Daweian house design and local beliefs. At the end of the house visit, have a chance to try Daweian Traditional Dress.
Afterwards, community guide will lead you through the village for approximately 30-60 minutes, to the sand-flats and beach. We can either learn how to hunt for shellfish and crabs, or learn how to cast a fishing net into the sea. Joining daily activities with the villagers is good fun, but be aware that this is not sports fishing - our catch is usually quite small!
Remark : Exact activities depend on the tide.
Before enjoying sunset picnic, there is plenty of time to enjoy a cool swim in the beautiful blue sea, or just relax on Tizit's stunning white sand beach.
 A highlight of Tizit's program is a sumptuous beach picnic, cooked by Tizit's Community Based Tourism Cooking Group. There are 2 options. Either Special Seafood Picnic, which is mainly seafood; or Grandma's Recipes Picnic, which only has one seafood dish for people who prefer meat or vegetarian menus. Enjoy the beach picnic at sunset time. Then, transfer by car or local tuk tuk (depending on road condition) back to village and return to Dawei.
End of Program !
Note:  To avoid creating unnecessary waste, should bring your own drinking water in reusable bottles. Free refill stations will be available. Bottled water is also available, for an additional cost.