Exploring Salay Near Bagan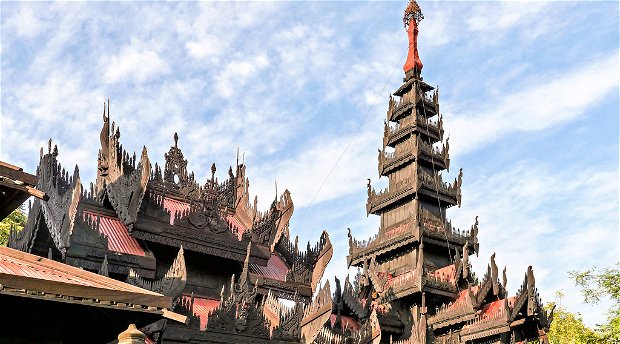 Salay is a colorful old religious center in Central Myanmar. Situated on the bank of Ayerwaddy River, an easy access from the south of Bagan.
Remark: This tour is just an example and can be customized to your preferences.
Gallery
Itinerary
08h30 - 17h00 (Approx.)
Depart to visit Yokesone Monastery
Depart to visit Yokesone Monastery, built on 154 teak posts and known for its 130-year-old beautiful wooden carvings of the 'Jataka Tales' (stories from the Buddha's life) which decorate the outer walls. Lunch stop at Salay House, formerly the 1906 British-Colonial building used to be a trading company. This restored riverside warehouse is filled with antiques to recreate the flavour of this historic time period. Learn and explore how British-Burma operated with displays and information panels.
A short walking tour in the village to see the houses from colonial time and also visit the U Bo Kyi's House, (the colonial house where U Bo Kyi, the donor of Salay Yokesone Monastery used to live). Continue drive towards Shin Pin Sar Kyo Pagoda built by King Nara Patisithu in the 11th century with the unique paintings in different styles of three periods (Bagan, Pinya/Inwa, Kong Baung) from 11th to 18th centuries. The temple was decorated with paintings, glass mosaic and hundreds of the teak pillars. Return to Bagan through Chauk (53km, about 1 hour), where you will see old Burma Oil installations (nodding donkeys). Return to Bagan.
What's included
Sightseeing with English speaking station guide
Transportation by air-conditioned vehicle with driver