Exploration to Spiritual Mt.Popa and Hidden Salay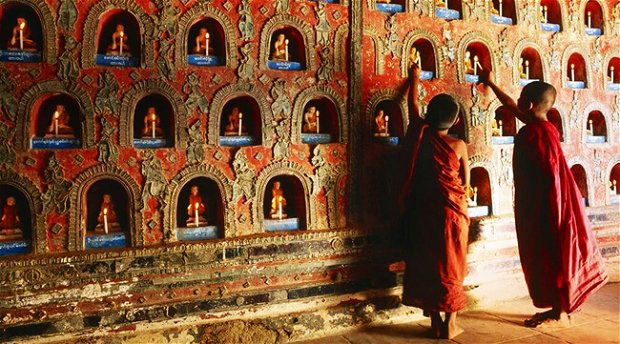 It is time to take a break from temple touring in Bagan so as to do exciting excursion to Mount Popa and Salay. Explore the Mount Popa - the most famous place for spirit-worshipping religion and explore the culture and history near Irrawaddy River by visiting the famous Yoke Sone Kyaung Monastery in Salay. More than that, experience with the scenic boat ride on Irrawaddy River and enjoy the fabulous scenes of life on the water: fishermen, local ferry boats, riverside villages and views of the Bagan temples.
Remark: This tour is just an example and can be customized to your preferences.
Gallery
Itinerary
Full Day
Depart to visit MT. POPA
Depart to visit MT. POPA. On the way stop at the palm plantation and see the toddy palm wine and jaggery making workshops. Mt Popa is a place of great importance to the Burmese as they believe it is the home of 37 Nats, ancient Burmese animist spirits. The spirits predate the arrival of Buddhism in Myanmar. The shrine is located on a volcanic plug, Taung Kalat. Taking over 800 stairs to the top, learn about nats and nat worship while climbing past many shrines and see many local pilgrims.  The hard work is rewarded as the view over the Myingyan Plain from the top of the volcanic peak is quite impressive. If time, visit the market at the foot to Taungkalap.
Then, drive towards the town of Kyaukpadaung and visit the colorful local market before continuing to SALAY. If you wish, have lunch stop (on your own account) at Salay House, formerly the 1906 British-Colonial building used to be a trading company. This restored riverside warehouse is filled with antiques to recreate the flavour of this historic time period. Learn and explore how British-Burma operated with displays and information panels.
Visit Yokesone Monastery, built on 154 teak posts and known for its 130-year-old beautiful wooden carvings of the 'Jataka Tales' (stories from the Buddha's life) which decorate the outer walls. Then, a short walking tour in the village to see the houses from colonial time and also visit the U Bo Kyi's House, (the colonial house where U Bo Kyi, the donor of Salay Yokesone Monastery used to live). Continue to Payathonzu, a complex of three brick shrines with mural paintings from the Bagan period, and see Man Paya - a large lacquer Buddha image, said to date from the 13th century.
On return, transfer to jetty and for scenic boat ride (about 1 hour) on Irrawaddy River. Throughout the river cruise, enjoy the fabulous scenes of life on the water: fishermen, local ferry boats, riverside villages and views of the Bagan temples.
What's Included
Sightseeing with English speaking station guide
Transportation by air-conditioned vehicle with driver
Subject to change according to dolphin locations and weather conditions.