Day Trip to Lwe Khaw Community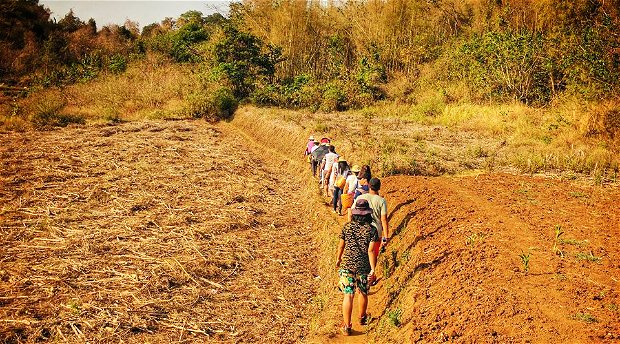 Pa O region, part of the Southern Shan State is rich in tourist attractions. There are legacies of ancient cultures, places for rest and relaxation, well preserved forests and mountains with natural beauty. Joining this trekking tour you will be able not only to enjoy nature, culture, traditional but also become acquainted with the centuries old Lwe Khaw Tribes.
Remark: This tour is just an example and can be customized to your preferences.
Gallery
Itinerary
Full Day
Start from Nyaung Shwe
From Nyaung Shwe takes a Tuk Tuk to the trekking starting point near Kanne reservoir. Then, walk up through several plantations such as grape (Red Mountain Estate Vineyard & Winery), turmeric, corn, cheroot leave and avocado to Lwe Khaw village. On the way, take a rest at the top of the mountain to enjoy the panoramic view of overlooking Inle Lake and its natural environment. A traditional lunch style will be served at Lwe Khaw community compound by the villagers. After lunch, make your sweet memory and educate the local people through replanting activity around CBT village will be included. Then, walk around Lwe Khaw (CBT project village) to observe the way of Pa-O ethnic life after that descending along the trails (rocky at the beginning) to Maingthauk village, passing through sugar cane plantations. From Maingthauk bridge return to your hotel by boat.
Distance              =  18 km
Walking Hour       =  5:30 hrs (approximate)
Trek Condition     =  40% up, 45% down & 15% flat
What's Included
Local English Speaking trekking guide
Boat transfer, Tuk Tuk
Lunch, Mineral water, Refill aluminium bottle, Fresh towel
Service charge in CBT- Village, tree planting