Day Trip to Hti Ne Community with Kakku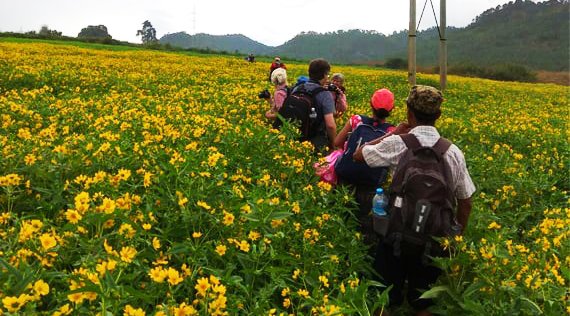 For a much more adventurous experience in Inle Lake, trekking may be a suitable choice. Trekking around the Pa O region, at time you will take an incredible panoramic view, a different vantage point from which you can easily appreciate the beauty of the water. And then, explore the Hti Ne Community and have a chance to watch their unique cultures. Moreover, discover the history of Kakku pagoda which is an ancient pagoda complex containing almost 2500 stupas.
Remark: This tour is just an example and can be customized to your preferences.
Gallery
Itinerary
Full Day
Day Trip to Hti Ne Community
Trekking starting point is at Magyikone boat jetty, on the eastern shore of the lake. The tour is a soft and hard trek to the summit where you can see the full scale of the blue and hazy mountain range on the eastern bank of Inle Lake. Visit the traditional Pa-O village of Hti Ne and the community lodge to enjoy your lunch there. After lunch, make your sweet memory and educate the local people through re-planting activity around CBT village will be included. Then, continue your trip to spend your time by observing Pa-O hand-weaving of bright and colorful piece of textiles and traditional shoulder bags. A car is waiting ahead ready to continue about 45 minutes to Kakku Pagoda complex. Kakku is one of the famous places, which is an ancient pagoda complex containing almost 2500 stupas. In Myanmar the Kakku pagodas are worshipped as an important site of pilgrimage. In the evening depart from Kakku by car to Inle.
Distance                =  12 km (trek), = 88 km (car)
Walking Hour         =  4 hrs (approximate)
Trek condition        =  25% up, & 75% flat
What's Included
Local English Speaking trekking guide
Boat & Car Transfer
Pagoda Entrance Fee
Mineral water, Refill aluminium bottle, Fresh towel
Service charge in CBT- Village, tree planting