Day Trip to Hidden Treasure, Kakku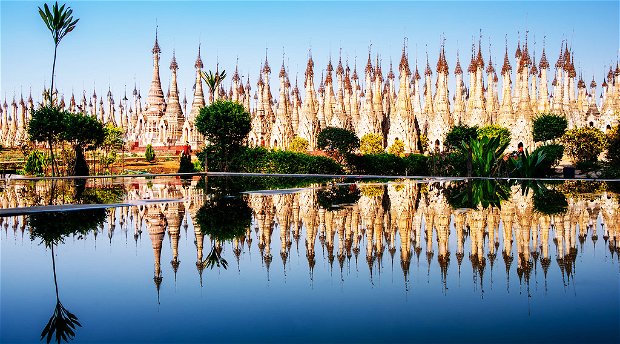 The 2478 stupas at Kakku are one of the most remarkable sights in Shan State. Arranged in neat rows sprawling over the hillside, local legend has it that the stupa garden was founded by the Buddhist missionaries of the Indian emperor Ashoka in the 3rd century BC. As such, the stupas span a bewildering variety of styles, marking the prevailing architectural trends when they were constructed. Some are simple and unadorned while others are covered in a riot of stucco deities and mythical beasts. Among the tall Shan-style stupas are a number of small square 'monastery style' stupas that are unique to this region. Like most ancient sites across the country, Kakku has been extensively restored using donations from pilgrims.
Remark: This tour is just an example and can be customized to your preferences.
Gallery
Itinerary
Full Day
Inle Lake - Kakku - Inlel Lake
At 08.00, drive to TAUNGGYI (30 km – 1 hour) and visit Taunggyi Market. With Pa-O conductor, continue for about another hour, depending on road and weather conditions to KAKKU. Visit the KAKKU Pagoda complex of over 2000 stupas located in Pa-O tribe region. Be awe-struck as thousands of stupas come into view. Wander amid these structures, some of which are 20-metres high. Take a closer look at the intricate carvings and details that can be found on some of the stupas. While exploring, learn of their mysterious origins dating back to the 11th century and their significance to the Pa-O people. Despite its beauty, few tourists make it to Kakku and it is likely that no other visitors will be there. The solitude of the site and its remote location add to its allure. Along the way, pass through the Pa-O villages and enjoy looking at their ways of life and back to Taunggyi. Return to Inle Lake.
Overnight stay in Inle Lake.
What's Included
Sightseeing with English speaking station guide
Transportation by air-conditioned vehicle with driver
Private local boat for Inle Lake
Entrance fees for the visits according to the program