Chin Tribe Expedition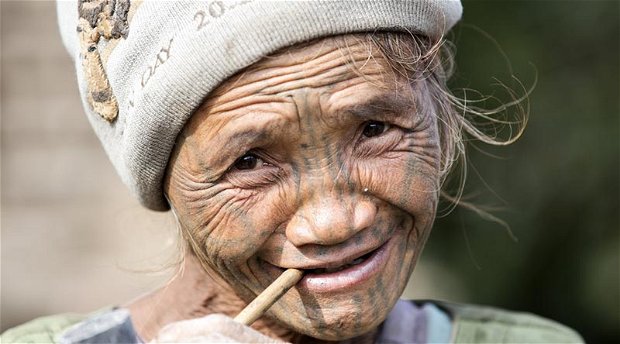 This is a unique tour and only a few foreign visitors have had the privilege to experience this route.
It is intended for guests who are well aware of bumpy driving stretches
and of simple infrastructure in accommodation and meal quality.
We endeavour to provide you with the best possible quality at each destination,
but hope for their understanding in shortcomings beyond our control.
Due to adverse weather conditions and monsoon rains
this itinerary is not suitable between the months of June to September.
This program starts and ends in Yangon and designing to explore CHIN villages in western part,
with four airs, overland adventure and river travels.
You can make beach break, NGAPALI in the end after Arakan.
Recommended travel period: from October to May.
Itinerary
Upon arrival at YANGON airport, transferred to hotel.
After small refreshment, your journey begins with an afternoon tour through Yangon's colonial-style city center. Visit MAHABANDOOLA PARK from where you have the perfect view on Colonial Buildings, CITY HALL and HIGH COURT. Visit and stroll through the BOGYOKE (SCOTTS) MARKET (closed on Monday and Gazette holidays), a compound of hundreds of food, garment, handicraft and gem stores. After a photo stop at the KARAWEIK HALL, a 'hamsa-bird-shaped' floating barge on Kandawgyi (Royal) Lake, visit the magnificent reclining Buddha CHAUK HTAT GYI. Complete your first day in Myanmar with a visit to one of the world's most spectacular monuments, the SHWEDAGON PAGODA.
Overnight stay in Yangon.
DAY 2
YANGON – BAGAN (BY FLIGHT)
A full day tour by car to the best known temples of the area including Ananda, Dhammayangyi, Sulamani, and Thatbyinnyu that will certainly impress you.
Bagan is not only the site of thousand year old temples and pagodas, but also home too many villages scattered around the surrounding plains. Leave to TAUNG BI VILLAGE, and visit the noodle makers, a Myanmar-style movie theatre, the village hairdresser and a local tea shop. Proceed to visit traditional family business including blacksmiths, brick makers, dry snack workshops and bamboo roof producers.
In the evening, horse-carriage will take you through some of the more off the beaten track temple sites.
Overnight stay in Bagan.
Breakfast at hotel. A Journey to CHAUK (34 km- 1 hr drive), south of Bagan and cross the over the mighty Ayeyarwaddy river. Continue (106 km, 7 hrs) to KANPETLET located on the South Eastern side of the MT. VICTORIA.
The drive from Chauk will take you across the vast plains and gentle hills of MAGWAY DIVISION. This region becomes extremely dry during the hot season in the spring time but will revive and flourish during the monsoon rains in the summer. Erosion caused by the rains change the landscape and the road conditions every year making this journey a 4WD safari travelled mostly on dirt tracks.
You will pass on bumpy and dusty roads through the villages and towns of MYIT CHAY, KANMA and the township of PAUK, where people are still living very isolated from the rest of the world.
Lunch stop will be at a simple local restaurant en-route.
Once reaching SAW town, at the foot of Chin Hills, the nature becomes suddenly more lush and green. Continue up the Chin Hills on a winding road and forested slopes until reaching KANPETLET, a beautiful village set on mountain ridge between deep valleys on both sides. Upon arrival, check in to your accommodation.
Overnight stay in Kanpetlet.
After breakfast, visit several Chin minority villages near Kanpetlet. Meet the local people and learn about their customs, traditions and heritage as well as of their different style facial tattoos. Many of the Chin minority villages can be conveniently reached with a short drive and walk from our lodge. The Chin people consist of several tribes namely: Asho, Cho, Khumi, Kuki, Laimi, Lushai and Zomi. Some of these minority groups can be found in Kanpetlet area. After tribal encounters visit European Union funded rural project office in the heart of Kanpetlet and a local monastery and school. Enjoy a picnic lunch with magnificent sceneries. The air is crisp and cool up the mountain and eagles can often seen gliding over the forested mountain slopes around Kanpetlet.
Overnight stay in Kanpetlet.
After breakfast, drive (60 km, 3 hrs – on a seasonal mountain road!!) to MINDAT, located on the North Eastern side of Mt. Victoria. Road conditions permitting driving on the seasonal road to Mindat, it is possible explore en-route the rarely visited AYE and KYARDO Chin villages and meet the local people. The villagers are known for their hunting skills and live virtually out of touch from the modern world. Elderly ladies in these villages have different tattoo patterns than ladies inhabiting the Kanpetlet area. On arrival to Mindat check in to a local guest house and time permitting, set off to explore Mindat and the surrounding ethnic minority villages. Three different Chin tribes: Dine, Mum and Ma inhabit this region. Meet the ladies with tattooed faces and listen to the sounds of a flute played by nose.
Overnight stay in Mindat.
Note: Seasonal road between Kanpetlet and Mindat deteriorates annually, during the rainy season, and is partially rebuilt every year. The road is subject to closures without prior notice by authorities. Hence a longer alternative route may need to be used to reach Mindat, extending travel time to about 6 hours.
After breakfast, visit one or two more villages before a drive back to BAGAN (160km, approx: 7½ hr). Along the way you will travel across the Phon Taung & Phon Nya mountain ranges. Following down the mountain slopes and rural roads (mostly unpaved dirt tracks), arrive to Bagan late afternoon time. On arrival to Bagan transfer to your hotel.
Overnight stay in Bagan.
DAY 7
BAGAN – YANGON (BY PM FLIGHT)
After breakfast, the day is free for your private activities until departure for domestic flight to YANGON.
Overnight stay in Yangon.
Optional: Experience the magic of Bagan and a thousand years of history from the enchanting platform of a hot air balloon, for the first time ever. Sunrise Balloons offer visitors exclusive sunrise champagne flights over the ancient pagodas of Bagan from late October to April.
DAY 8
YANGON – SITTWE (BY FLIGHT) – MRAUK U (BY BOAT)
After breakfast, you will be transferred to the airport for the domestic flight to SITTWE, the provincial capital and main port of RAKHINE (Arakan). Upon arrival, transfer to the jetty proceed by boat (no toilet facilities on board) for the 70km (6-8 hours') journey upriver to the last royal capital of Rakhine, MRAUK U.
Overnight stay in Mrauk U.
After breakfast, drive to VESALI (Wethali), a former 2.7 square mile size city built by the King Mahataing Chandra during the reign of Vesali Dynasty which lasted until the 8th century. Visit the 'Wethali Great Image' from 327 AD, a huge sitting Buddha image made out of one piece of sandstone, as well as the remaining ruins of the palace site. Continue by car to DANYAWADDY. See the MAHAMUNI PAGODA, built during the period of the Dhanyawaddy Dynasty. It once housed the famous Mahamuni image made of bronze, which was according to a legend cast during Buddha's visit to Rakhine. Nowadays this famous image can be seen in Mandalay. Return to Mrauk U. 
After lunch break, walk through the maze-like SHITTAUNG Temple, a shrine of 80,000 Buddha images; the adjacent ANDAW THEIN ORDINATION HALL and to HTUKKAN THEIN TEMPLE and the 17th century temple of KOETHAUNG.
Overnight stay in Mrauk U.
DAY 10
LAYTOO CHIN VILLAGES
After early breakfast, start a scenic journey on a very bad and bumpy road (72 km – 2 1/2 hours) to CHAO MAY and SANKAY, tattoo villages of the Laytoo Chin minority. The Chin minorities are probably best known for their colourful fabrics and tattooed faces. This centuries old tradition is fading and new facial tattoos are not made anymore in our modern times. Return to Mrauk-U for your lunch at a local restaurant. In the afternoon explore a typical village of the SHAKAMA (Thet) minority and take a look into the rural way of life. Enjoy a short canoe trip through the beautiful landscape of Lemyo River followed by further temple explorations. 
Overnight stay in Mrauk U.
DAY 11
MRAUK U – SITTWE (BY BOAT)
Breakfast is followed by a visit to the local market. Transfer to the jetty for the boat journey back to SITTWE with picnic lunch served on board. On the way stop to visit one of the MYO VILLAGES, famous for their natural Khami Cloth. Upon arrival to Sittwe, transfer directly to the town's old commercial area. Stroll along the STRAND ROAD, lined with a fascinating variety of stores and enjoy watching the hustle and bustle of local business activities. 
Overnight stay in Sittwe.
DAY 12
SITTWE – YANGON (BY FLIGHT)
After breakfast, set off by car to visit the main market of Sittwe, where fishermen, town and rural people come to buy and sell fish and general supplies. Time permitting, visit the 100 year old Buddha with a golden face at the PAYAGYI TEMPLE and the local MOSQUE. 
Lunch break at a local restaurant and transfer to the airport for the flight back to Yangon. Upon arrival you will be transferred to your hotel.
Overnight stay in Yangon.
Breakfast at hotel. Transfer to airport for your departure flight.
Itinerary is subject to changes depending on flights, road conditions and availability of rooms.