Admirable Buddhist Ritual at Mahamuni Pagoda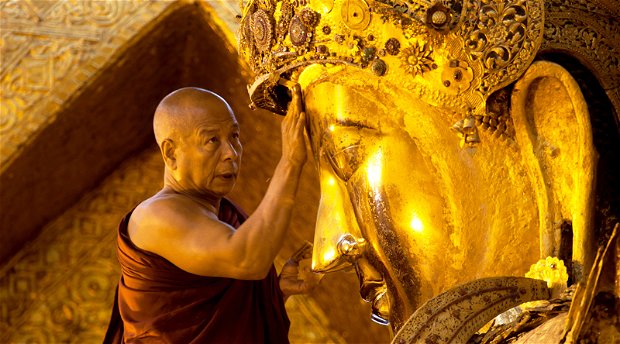 Remark: This tour is just an example and can be customized to your preferences.
Gallery
Itinerary
Admirable Buddhist Ritual at Mahamuni Pagoda
Meet at your Hotel
You are picked up by car at 04:00 to observe the traditional ritual of the daily face-washing ceremony at Mahamuni Pagoda, the most important pilgrimage site for local people. Ancient tradition refers to only five likenesses having been made of the Buddha during his lifetime; two were in India, two in paradise, and the fifth is the Mahamuni Buddha image in Mandalay. According to the legend, the Buddha visited the Dhanyawadi city of ancient Arakan in 554 BC, during which King Sanda Thuriya requested that an image be cast of him. After casting, the Buddha breathed upon the image, and thereafter it became the exact likeness of the Mahamuni Buddha. The dawn ritual commences daily at 04:00-04:30 hours.
It is an elaborate task performed by a senior monk, assisted by several lay helpers dressed in white and wearing formal headdresses. As soon as the drums are struck, the senior monk residing in the adjoining monastery enters the sanctum and starts the formal face-washing with a succession of fresh towels offered by devotees. He then cleans the Mahamuni's teeth with a large brush, followed by one more sequence of cleaning the face with fresh towels. After this, sandalwood paste is applied to the image and it is again cleaned with towels and finally sprinkled with scented water. After the ceremony is complete, more than one hour later, the used towels are returned to the devotees who keep them with reverence in their home shrines. Afterwards, stop at popular tea shop where locals enjoy their breakfast. You can taste some of its famous tea, snacks, or Mandalay 'Monte' noodles. Return to your hotel at 07:30 am.
What's Included
Sightseeing with English speaking station guide
Transportation by air-conditioned vehicle with driver