5 Days to Hidden Treasure ARAKAN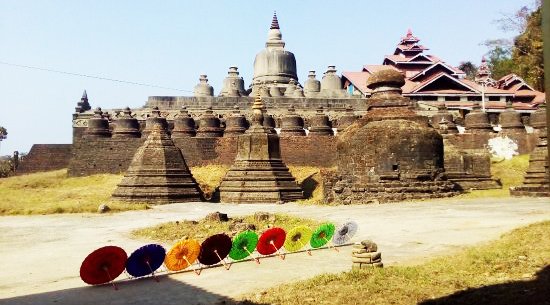 This is a unique tour and only a few foreign visitors have had the privilege to experience this route. It is intended for guests who are well aware of bumpy driving stretches and of simple infrastructure in accommodation and meal quality. We endeavour to provide your guests with the best possible quality at each destination, but hope for their understanding in shortcomings beyond our control.Due to adverse weather conditions and monsoon rains this itinerary is not suitable between the months of June to September.
Remark: This tour is just an example and can be customized to your preferences.
Gallery
Itinerary
Day 1
Yangon - Sittwe (By Flight) - Mrauk U (By Boat)
You will be transferred to the airport for the domestic flight to SITTWE, the provincial capital and main port of RAKHINE (Arakan). Upon arrival, transfer to the jetty proceed by simple boat for the 70km (6-8 hours') journey upriver to the last royal capital of Rakhine, MRAUK-U.
Overnight stay in Mrauk U.
After breakfast, drive to VESALI (Wethali), a former 2.7 square mile size city built by the King Mahataing Chandra during the reign of Vesali Dynasty which lasted until the 8th century. Visit the 'Wethali Great Image' from 327 AD, a huge sitting Buddha image made out of one piece of sandstone, as well as the remaining ruins of the palace site. Continue by car to DANYAWADDY. See the MAHAMUNI PAGODA, built during the period of the Dhanyawaddy Dynasty. It once housed the famous Mahamuni image made of bronze, which was according to a legend cast during Buddha's visit to Rakhine. Nowadays this famous image can be seen in Mandalay. Return to Mrauk-U.
After lunch break, walk through the maze-like SHITTAUNG Temple, a shrine of 80,000 Buddha images; the adjacent ANDAW THEIN ORDINATION HALL and to HTUKKAN THEIN TEMPLE and the 17th century temple of KOETHAUNG.
Overnight stay in Mrauk U.
Day 3
Laytoo Chin Village
After early breakfast, start a scenic journey on a very bad and bumpy road (72 km – 2 1/2 hours) to CHAO MAY and SANKAY, tattoo villages of the Laytoo Chin minority. The Chin minorities are probably best known for their colourful fabrics and tattooed faces. This centuries old tradition is fading and new facial tattoos are not made anymore in our modern times. Return to Mrauk-U for your lunch at a local restaurant. In the afternoon explore a typical village of the SHAKAMA (Thet) minority and take a look into the rural way of life. 
Overnight stay in Mrauk U.
Day 4
Mrauk U - Sittwe (By Boat)
After breakfast, transfer to the jetty for the boat journey back to SITTWE. On the way stop to visit one of the MYO VILLAGES, famous for their natural Khami Cloth. Upon arrival to Sittwe, transfer directly to the town's old commercial area. Stroll along the STRAND ROAD, lined with a fascinating variety of stores and enjoy watching the hustle and bustle of local business activities. 
Overnight stay in Sittwe.
Day 5
Sittwe - Yangon (By Flight)

After breakfast, set off by car to visit the main market of Sittwe, where fishermen, town and rural people come to buy and sell fish and general supplies. Transfer to the airport for the flight back to Yangon. Upon arrival you will be transferred to your hotel. 
Overnight stay in Yangon.
Itinerary is subject to changes depending on flights, road conditions and availability of rooms.
What's included
Accommodation in shared twin rooms with daily breakfast
Sightseeing with English speaking station guide
Transportation by air-conditioned vehicle with driver