4 Days Expedition to Shan State's Forgotten Mines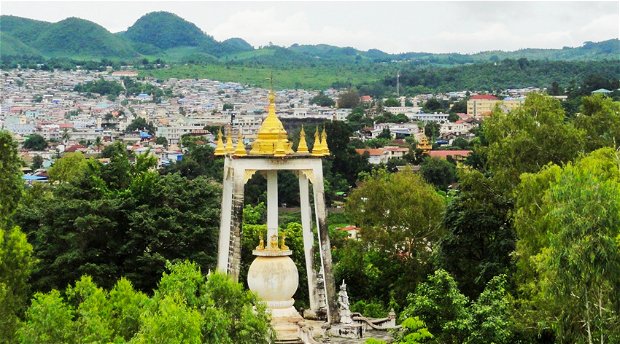 Remark: This tour is just an example and can be customized to your preferences.
Gallery
Itinerary
Drive from Mandalay to Namtu via Lashio by private coach about 10 hours.

Overnight stay in guesthouse.
Visit the railway shed/workshop where they have hulks of 14 and 16 (Kerr Stuart Tattoo class) and 34 and 40 (Kerr Stuart Huxley class). You may spot more boilers and various other junk in nearby bushes. Many of these were derelict of dismantled but believe there were potentially nine runners. Observe engine No 13 starting up and later board a steam train to Wallah Gorge by 0-4-2T 13 (Kerr Stuart Huxley class, 2383/1914) normally attached to two locally made coaches. Heading on westwards from NAMTU the line follows the valley for a further 2 km before turning abruptly into a side valley. From here the line climbs continuously to BAWDWIN at a ruling gradient of 1 in 27, hugging the side of the valley for most of the distance. The line twists and turns continuously as it makes its way up the gorge with many spectacular views. LOPAH, 8 km from Namtu, has a pretty station building, a loop and some sidings. 3.5 km further on the line reaches the spiral at Wallah Gorge in a most attractive setting overlooked by a small pagoda. On the north side of the line and at a much higher level the electrified line ends in a loop with two tipplers alongside the staithes. 1 km further on the line reaches TIGER CAMP, the junction with the electrified mine lines and at an altitude of about 800 meters. The line offers spectacular views, especially around Wallah Gorge. You will be able to make several stops for runpasts as you go up. The major feature of this part of the line perhaps will be of a full spiral where you can make film to your satisfaction.
The ultimate destination will be Bawdwin, but initially you will be heading for Tiger Camp (7 miles and 800 ft higher up than Namtu). After lunch continue upwards to Bawdwin, another 4 miles and 500ft by railcar. Bawdwin lies about 3.5 km to the west of Tiger Camp but is at 180 meters higher altitude. The line onwards from Tiger Camp starts with a lengthy Z reserve high above Wallah Gorge and continues with many. Transfer by bus to Marmion shaft and observe the opencast mining and the electric winding gear for the shaft which was of British origin dating from 1925. Return to Tiger camp by railcar and then to Namtu by steam loco.

Overnight stay in Myanmar Mine guesthouse.
Day 3
Namtu - Nashai - Namyao - Nashai - Lashio
Breakfast at the guesthouse and depart by diesel loco to NASHAI (approx 30 km), continue to NANMYO where the Bagnall 2-6-2 No. 42 would be in steam to greet you. Between Namtu and Namyao the line runs mostly through undulating jungle terrain. About 3 km after Namtu it passes a ruined smelter and drops down a steep gradient into the valley of the Namtu River before crossing the river on a substantial girder bridge and entering Namtu yard. The ruling gradient throughout from Namyao is 1 in 38. Observe the steam loco No. 42 action in shunting. Later return by diesel loco back to Nashai level crossing with motor road where your driver and coach will meet you and proceed to Lashio (approx 2 hour).Overnight stay in Lashio.

Optional: You can have (optional with extra cost) a short run with runpasts (about 3 km east) to the location of the original 'Mill' which was destroyed during the Second World War.
Breakfast at hotel and overland drive to MANDALAY via HSI PAW and PYIN OO LWIN (MAYMYO). Highlight for the day will be to cross the GOKTEIK BRIDGE, a structure of steel trestle construction for railway line began in 1901 by Pennsylvania and Maryland Bridge Construction and completed in 1913. The second highest bridge in the world of its kind is 2260 feet long and 320 feet high viaduct was built above a deep ragged stone rock valley. The Rock itself is 550 feet high above the small river that flows under the rock. Due to its technical and natural condition it's considered as a masterpiece of the world standard.
Overnight stay in Mandalay.
What's Included
Accommodation in shared twin rooms with daily breakfast
Sightseeing with English speaking station guide
Transportation by air-conditioned vehicle with driver
Itinerary is subject to changes depending on regional conditions.