2 Days to Hti Ne Community with Kakku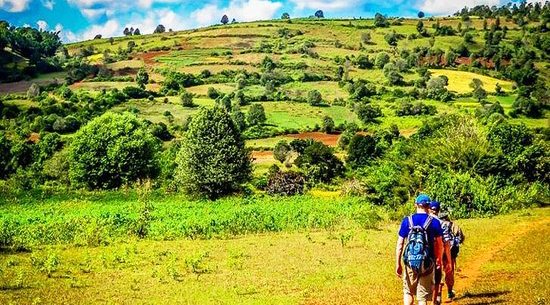 If you are willing to visit for explore about authentic local tribe, famous historic pagodas, panoramic view of amazing Shan State in Myanmar. Along the trek to villages, this show differing stages of development and some still adhere to a very traditional way of life. Moreover, you can feel the most beautiful scenery of mountains, hills and landscape which will impress you to the max.
Remark: This tour is just an example and can be customized to your preferences.
Gallery
Itinerary
Day 1
Inle - Taunggyi - Kakku - Naungkae - Hti Ne
Pick you up at your respective hotel in Inle area to proceed by car via Taunggyi (Capital city of Shan State) to Kakku pagoda complex (driving time about 2:30 hours). On the way, we stop to visit Phyu Nge monastery (over 150 years old) and other Pa-O villages. The ancient Kakku pagoda complex is a hidden treasure with nearly 2500 Buddhist stupas lying in parallel rows in an area of about one square kilometer. In Myanmar the Kakku pagodas are worshipped as an important site of pilgrimage. Lunch will be served at Haling Koon Restaurant facing the Kakku Pagoda complex. After lunch, we will proceed by car to Saungphoe village where can visit water source and walk up to a hillock to enjoy 360 degree view of around that region. Continue to Hti Ne CBT project village that we spend a night at the community lodge. In the evening, walk up to the top of the mountain about 5 minutes from community lodge to take the delighting of the sunset. You will also have an opportunity to dress in a Pa-O traditional costume during your stay. After that, authentic local foods will be served before a culture exchange session with traditional dance & music by the villagers at community lodge.
Distance = 90 km (car)
Day 2
Hti Ne - Moe Kaung - Inle
After breakfast, make your sweet memory and educate the local people through re-planting activity around CBT village will be included. Leave from the community lodge at 9:00 AM, walk through Hti Ne village and experience local handicraft while you go up to Mellow village. Trek down the side of the mountain to Don Htithakaw village then continue to Moe Kaung village where we stop for lunch. After lunch proceed to Magyikone boat jetty by passing through seasonal crop plantations, across a small bridge and some villages.  Return to your hotel by boat.
Distance              = 14 km
Walking Hour       = 5hrs (approximate)
Trek condition      = 30% down, 5% up & 65% flat
Itinerary is subject to changes depending on flights, road conditions and availability of rooms.
What's Included
Local English Speaking trekking guide
Accommodation
Boat & Car transfer, Bags transfer
Pagoda Entrance Fee
Meals, Mineral water, Refill aluminium bottle, Fresh towel
Service charge in CBT- Village, tree planting, culture exchange session