5 Days World Heritage Site to Bagan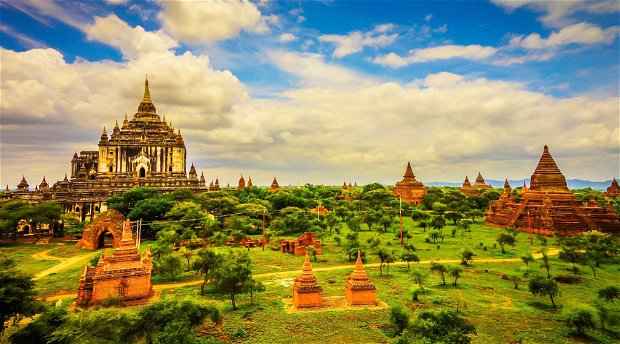 This 5 Days UNESCO World Heritage Tour aim for travellers who want to discover unique Myanmar ancient civilization and explore UNESCO world heritage of Pyu Kingdoms Sri Ketsra (Pyay), Beikthano and Ancient Pagodas. Main highlights are famous Shwesandaw Pagoda, fresh Night Market, Akaut Taung, Mya Tha Lun Pagoda and the dormant volcano namely Na Gar Pwat. More than that amazed by the countryside, beautiful scenery and the way of local lifestyles. Sure this tour make you feel closer with nature, culture, history and hidden Myanmar's ancient pagodas.
Remark: This tour is just an example and can be customized to your preferences.
Gallery
Itinerary
Day 1
Yangon – Pyay (By Car)
After early breakfast, highway drive (286 Km, 5 Hours) to PYAY (Prome), situated near the ancient capital of SRI KSETRA (Thayekhittaya), which flourished between 5th and 9th century and where extensive archaeological excavations have taken place. En-route stops at villages to learn the daily life of the people more closely. Also visit SHWEMYETHMAN PAGODA (which is home to a most unusual Buddha image – one who wears gold-rimmed spectacles) in SHWE TAUNG, a small town before and close to Pyay.
In the evening, visit SHWESANDAW PAGODA, which is similar in design to Shwezigon in Bagan, and is one of the most sacred Buddhist pilgrimage spots in Myanmar. An enormous seated Buddha figure rises up from the tree line adjacent to Shwesandaw which is called SAEHTUTGYI PAGODA.
If time permit, walk along the strand road on the bank of Ayeyarwaddy River. Then stroll through small and crowded night market selling varieties of fruits, vegetables and local snacks before returning to your hotel.
Overnight stay in Pyay.
Early morning, drive to the outskirts of Pyay and cross the new bridge to HTONE BO VILLAGE and continue by local boat to AKAUT TAUNG to see Buddha images carved into rocks overlooking the Ayeyarwaddy River. Hundreds of niches in the cliff face are filled with Buddha images of all shapes and sizes – many of them have been carved out of the rock face. See villages and typical rural life as well. Continue visit to a famous pagoda ShweBonTha Muni, it will be a great view of Ayeyarwaddy River and Pyay. Then return back to Pyay.
In the afternoon, drive out of Pyay to admire the ancient stupas of the SRI KSETRA kingdom, BO BO GYI PAGODA, PAYAGYI PAGODA, BE`BE`PAGODA, LAY MYATNAR PAGODA, EAST ZAYGYU, WEST ZAYGYU and PALACE WALL and visit the tiny ARCHAEOLOGICAL MUSEUM at the Hmawzar Village, which houses artifacts unearthed in Sri Ksetra.
Overnight stay in Pyay.
Day 3
Pyay – Beikthano – Magway (By Car)
After breakfast, drive to north to Magway (200 km/ 4 hours drive). The road passes through more beautiful rural scenery dotted with small towns. Along the way stop at BEIKTHANO which is one of the old states of Pyu Ancient City-State, from the east bank of Ayeyarwaddy River and in the middle portion of the arid central plain of Myanmar. It is one of the best examples of early Pyu civilizations and there are rhombus-shaped city walls stretching more than 2 miles in each direction. Inside the walls are large, crumbling brick structures whose design reflects monastic buildings from South India as well as unique burial grounds.
Proceed to Magway, upon arrival transfer to hotel for check-in. MAGWAY is well known for its production of both groundnut and sesame oils, earning itself the nickname, 'Oil pot of Myanmar'. The town is also known for producing exotic fruits especially the unusual, yet delicious phangar fruit. Continue to the famous MYA THA LUN PAGODA, located on the banks of the Irrawaddy River, a scenic place ideal for photos.
Overnight stay in Magway.
Day 4
Magway – Pwint Phyu - Minbu
After breakfast, drive to north to the north banks of the Irrawaddy River (20 kilometre drive) to reach KYAUNG TAW YAR PAGODA, at the Pwint Phyu Township. The temple is believed to be the site of an ancient monastery built of sandal wood in which the Lord Buddha spent some time after having achieved enlightenment. Continuue to MINBU and visit to the SHIN PIN SET KEIN TE PAGODA with its golden shining, the dormant volcano namely NA GAR PWAT, which is spurting out boiling mud. This unusual geological phenomenon is believed, by the locals, to be caused by dragons (nagas) living deep inside the earth. Return back to Magway.
Overnight stay in Magway. 
After breakfast, drive to Bagan (150 kilometre) along the country side and villages.
Overnight stay in Bagan.
What's include
Accommodation in shared twin rooms with daily breakfast
Sightseeing with English speaking station guide
Transportation by air-conditioned vehicle with driver
Itinerary is subject to changes depending on road conditions and availability of rooms.